Green hydrogen for research: APEX supplies FVTR and the University of Rostock with green hydrogen
Feb 02, 2023 4:59 PM
Rostock/Laage, 02. February 2023 - The APEX Group, based in Rostock-Laage, supplies green hydrogen for research purposes to FVTR GmbH and the University of Rostock. The delivery is made by a 300-bar trailer carrying approximately 400 kg of hydrogen. APEX produces the green hydrogen through its own 2 MW electrolysis process, using green energy from its in-house photovoltaic plant, which produces evenly distributed power throughout the day due to its east-west orientation.
Both research institutes are working towards developing CO2-neutral drives for future mobility. The FVTR (Research Center for Combustion Engines and Thermodynamics Rostock) operates various engine test stands with a focus on applications in the marine sector, such as developing a CO2-free yacht drive based on ammonia and hydrogen. They are working on retrofitting yacht engines to run on ammonia/hydrogen, including developing combustion processes and conducting potential assessments. In commercial vehicle research, they are testing hydrogen combustion processes for climate-neutral drives.
The University of Rostock's Chair of Piston Engines and Internal Combustion Engines is investigating how the carbon footprint of shipping can be further reduced. The reason behind this is the expectation that Europe-wide shipping traffic should be emission-free by 2050, which entails a gradual transition to engines running on carbon-free fuels. A medium-term option is the addition of hydrogen to improve the combustion performance of LNG in ferry and cruise shipping to increase the energy efficiency of the fuel mixture while reducing emissions.
In commercial vehicles, the University of Rostock is working on developing a CO2-free drive for mobile construction machinery based on hydrogen. These new combustion processes are continuously refined regarding energy efficiency and minimizing emissions. The drive will initially be used in a demonstrator excavator developed by the university's industrial partners. The University of Rostock is also researching hydrogen distribution systems, which is a significant research contribution to making green hydrogen available for all applications and locations in the future.
"We are very excited about our cooperation with FVTR and the University of Rostock, as we too invest a lot of energy and ideas daily into the research and development of green hydrogen technology, its applications, storage, and transportability," says Dr. Peter Sponholz, CRO of APEX. "With our expertise in building hydrogen infrastructures and portable storage solutions, we actively support the research location in Germany."
APEX owns four hydrogen trailers with 300 bar pressure storage tanks that deliver hydrogen within a 150 km radius around Rostock-Laage.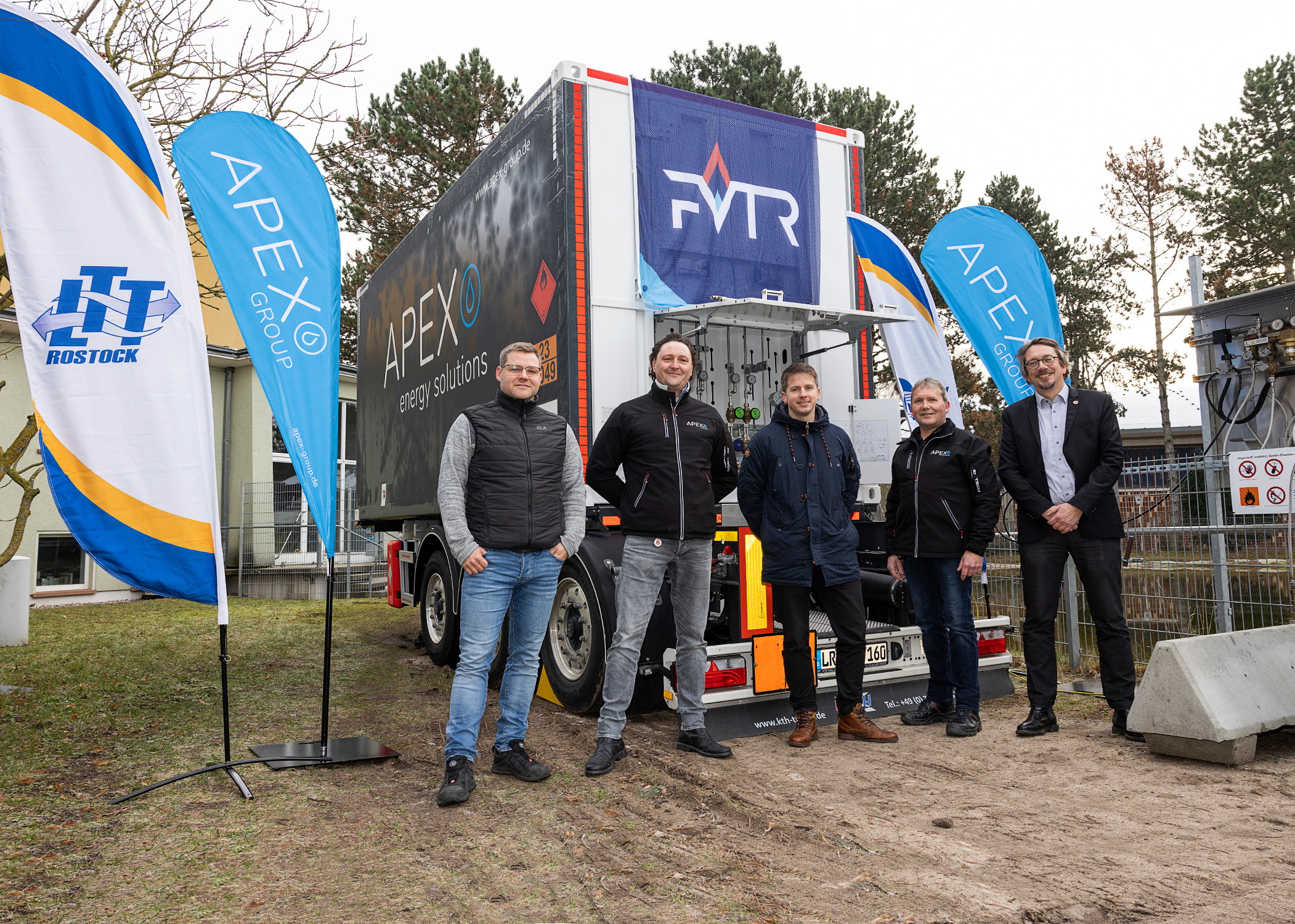 On the group photo f.l.t.r.: Dr.-Ing. Björn Henke (LKV, Prüfstandsingenieur), Erik Plüschke (APEX), Martin Drescher (CEO FVTR), Detlef Gallinnis (APEX), Prof. Dr.-Ing. Bert Buchholz (LKV, Leiter des Lehrstuhls)