First settlement in the CO2-neutral industrial park at APEX Energy Teterow GmbH
Jan 26, 2021 7:00 AM
Rostock-Laage, January 26th, 2021 - Rhodius Group signs rental contract for 20 years with APEX Energy in Germany's first climate-neutral industrial park in Rostock-Laage
The Rhodius Group is investing a double-digit million amount in machines and systems for the newly established 'Welding Technology Solutions' division. 60 modern workplaces for lightweight assemblies in robot and laser welding and cutting technology are created on a production area of 3,300 square meters and an administration building of 760 square meters. "In addition to our main plant in Laage-Kronskamp, we were looking for future-proof and expandable production areas," says site manager Peter Glomba. "The concept of the APEX industrial park convinced us from the start," reports the project manager Alexander Bausch. "Other location advantages, such as the proximity to the motorway and the direct vicinity to the airport, were decisive. Above all, however, the concept of the climate-neutral industrial park with self-sufficient electricity and district heating supply fits into the long-term strategy of Rhodius and its customers ".
Dr. Knut Kille, CEO of the Rhodius Group, thanked everyone involved: "With the founding of Rhodius Welding Technology Solutions GmbH at the Laage location, we are beginning a new era in the company's almost 100-year history. With this decision, we are giving a commitment to the region but also to "High-Tech Made in Germany". For us, APEX is the ideal partner for future development. "
The entire factory is supplied with electricity and district heating in a CO2-neutral way by APEX and is designed according to the most modern aspects. The official groundbreaking ceremony will take place in the spring, so that the hall can already be occupied in 2022 and the pre-series production of lightweight metal assemblies for the vehicle industry will start. In addition, the know-how in bionic engineering, i.e. the design optimization based on models from nature, is being expanded. This sets new standards in weight, strength and environmental friendliness in the production of vehicle and lightweight components.
"Apex is a system provider for hydrogen power plants. The construction of a complete industrial park is the consequent measure to use all advantages of the climate-neutral energy supply. In addition to electricity, hydrogen electrolysis also generates 30% heat, which is fed to the park as district heating. We are thus optimizing the degree of efficiency towards 100% ", said Mathias Hehmann, managing partner of APEX Energy Teterow GmbH, when signing the contract.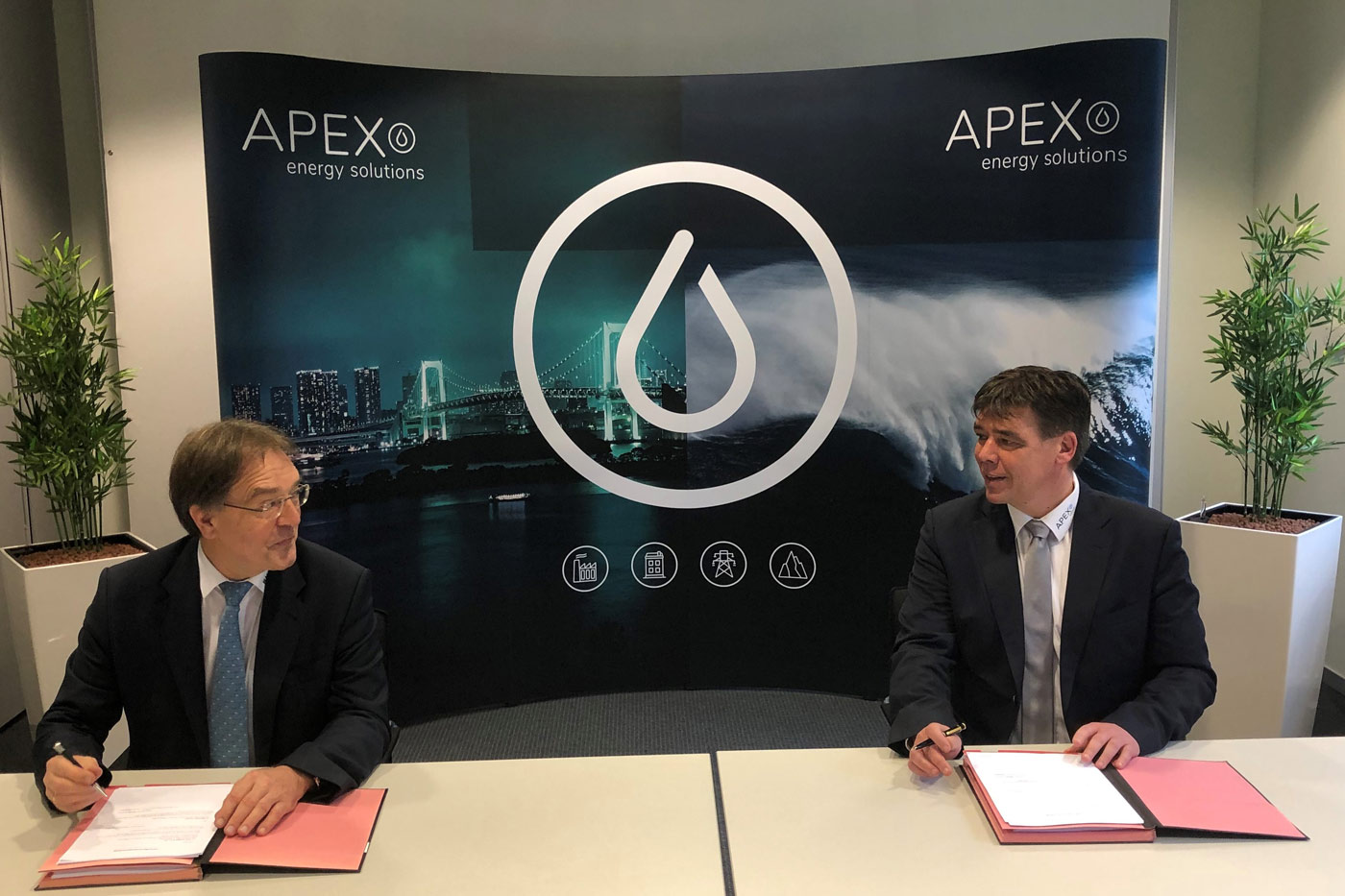 Dr. Knut Kille, CEO of the Rhodius Group and Mathias Hehmann, CEO of APEX Energy Teterow GmbH
Prime Minister Manuela Schwesig again emphasizes the importance of hydrogen in industrial production: