Rostocker APEX Group und Projektpartner legen Grundstein der 10 MW Elektrolyseanlage HyBit für das ArcelorMittal-Stahlwerk in Bremen
Apr 20, 2023 2:46 PM
Rostock, 20th April 2023 – The foundation stone for one of Germany and Europe's most significant industrial hydrogen projects was laid today in Bremen-Mittelsbüren. The "HyBit" joint venture, involving energy providers swb, EWE, and ArcelorMittal Bremen steelworks, aims to reduce CO2 emissions in steel production and initiate the decarbonization process within the industry.
In July 2022, the APEX GROUP, based in Rostock-Laage, was entrusted with constructing the electrolysis plant. The HyBit project represents an investment of approximately €20 million, and the facility's completion is scheduled for mid-2024.
APEX Group CEO Peter Rößner attended the foundation stone ceremony, along with President of the Senate, Mayor Dr. Andreas Bovenschulte, the Mayor and Senator for Climate Protection, Environment, Mobility, Urban Development and Housing, Dr. Maike Schaefer, and the Senator for Economics, Labor and Europe, Kristina Vogt. Representatives from the project partners included EWE CEO Stefan Dohler, ArcelorMittal CEO Reiner Blaschek, and swb Executive Board Member Dr. Karsten Schneiker (see photo).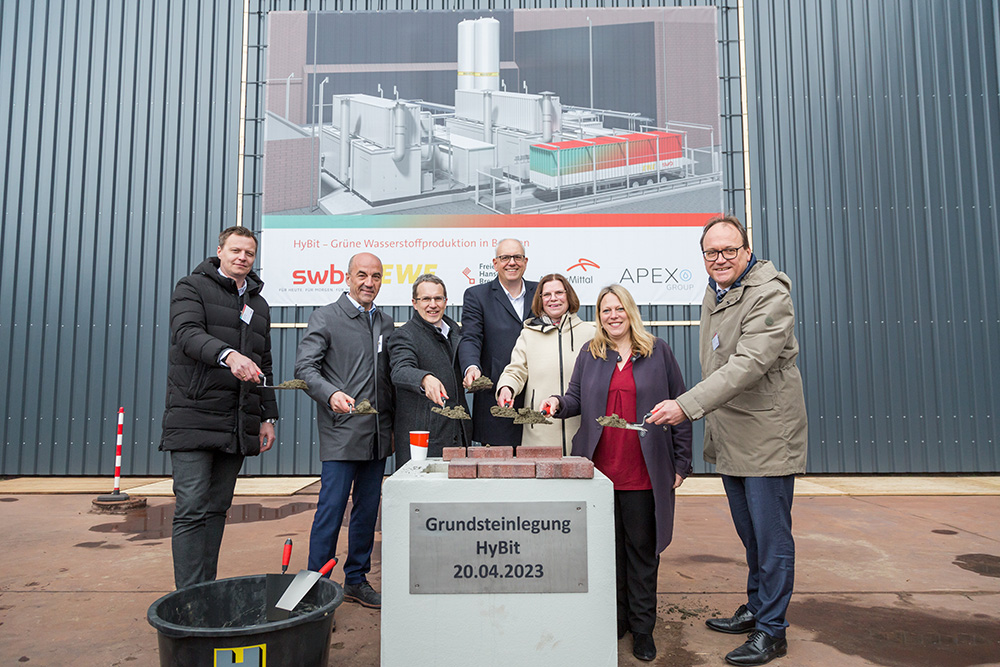 HyBit Paves the Way for Decarbonising Steel Production in Bremen
HyBit, representing Hydrogen for Bremen's Industrial Transformation, marks the commencement of decarbonization in Bremen's steel production. HyBit aims to generate green hydrogen at the swb power plant in Bremen Mittelsbüren using an electrolyzer and electrolysis.
The produced hydrogen will primarily serve the pig iron production and processing at the Arcelor Mittal steelworks. Additionally, some hydrogen can be flexibly transported to other locations via trucks, such as hydrogen refueling stations.
The 10-megawatt facility is set to begin operations in mid-2024, initially producing around 1,500 tons of hydrogen per year. Production volumes will be incrementally increased in the future.
APEX CEO Peter Rößner stated, "Hydrogen is the sole carbon-neutral energy carrier capable of replacing gas in the production process. HyBit is a flagship project for supplying the industry with green hydrogen and ranks among the largest industrial hydrogen initiatives in Germany and Europe. We are proud to contribute our expertise and experience to the hydrogen electrolysis plant's development. Offering competitive and widespread green hydrogen aligns with APEX's vision."
Key facts summarized:
The 10-megawatt electrolysis plant's construction paves the way for green steel production in Germany's northwest. The lion's share of green hydrogen will be delivered to the nearby ArcelorMittal steelworks. The steelworks will reduce CO2 emissions through the use of green hydrogen. In the future, electrolysis capacities will be expanded step by step into the triple-digit megawatt range.
Project partner swb has also issued a press release containing additional quotes from project partners. The press release can be found at: https://www.swb.de/ueber-swb/presse/presseinformationen.