APEX Group awarded project to build and supply two hydrogen filling stations for 52 hydrogen buses in Germany for rebus in long-term offtake agreement
Apr 28, 2023 1:06 PM
The German bus company rebus Regionalbus Rostock GmbH from the State of Mecklenburg-Vorpommern has awarded the project to APEX
Planning and construction of the two hydrogen filling stations is to be completed by early 2024
APEX will operate, maintain and supply the filling stations with green hydrogen with a volume of around 2,200 tonnes for a period of eight years starting in 2024
APEX expects total revenue of at least EUR 30 million from the project with rebus over eight years
APEX is investing a double-digit million Euro sum in the expansion of its own hydrogen plant from 2MW to 12MW – the long term supply of the two filling stations will take up one third of this capacity
Relevant experience through the construction and operation of the first hydrogen filling station for heavy-duty transport in Mecklenburg-Vorpommern
APEX anticipates further project successes from the 1.7 GW project pipeline in the near future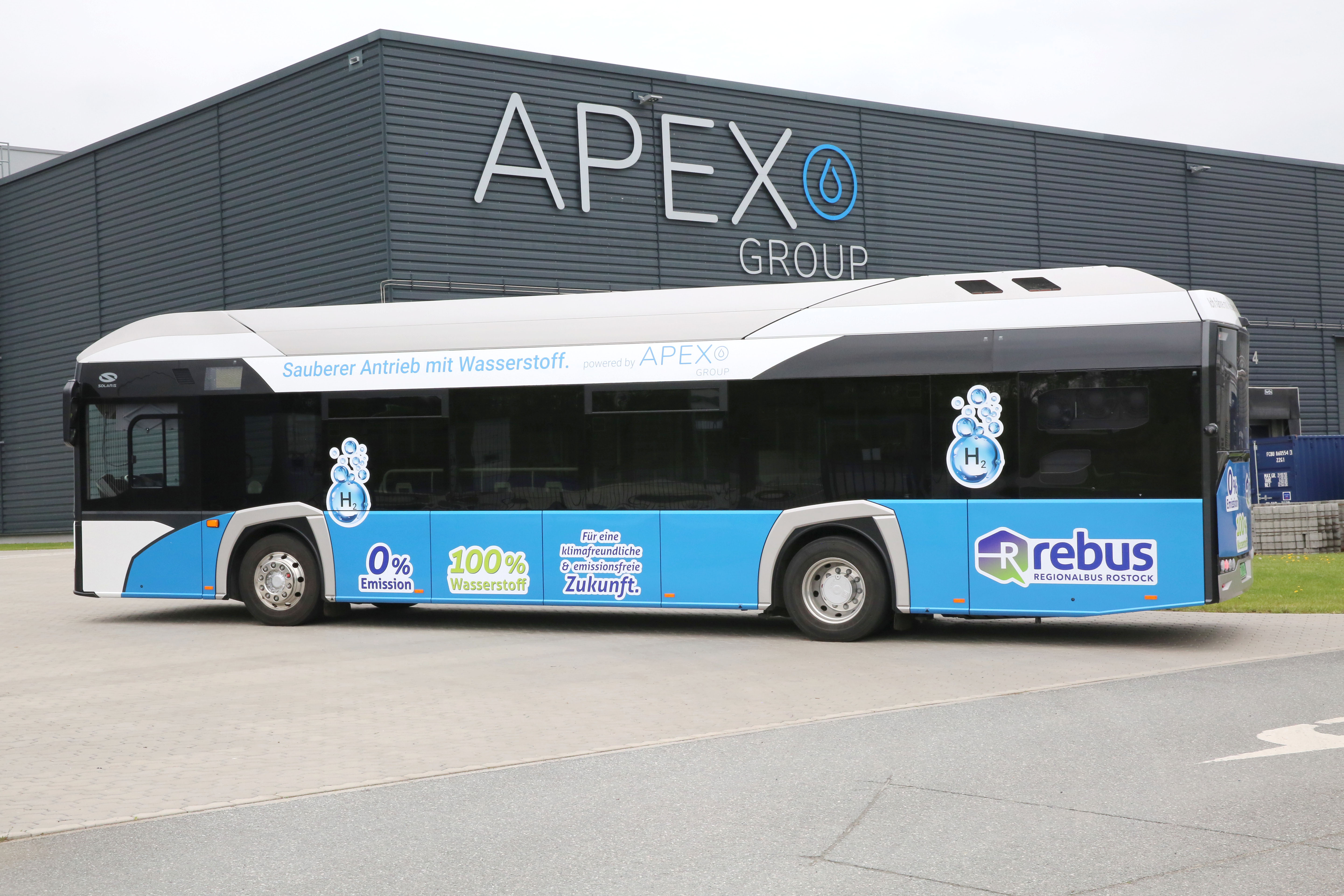 Rostock/Laage, Grevenmacher (Luxembourg), April 28, 2023 – APEX Group ("APEX"), a leading developer and operator of green hydrogen electrolysis plants for the decarbonization of industry, infrastructure and mobility, has been awarded a contract in a public tender by rebus Regionalbus Rostock GmbH ("rebus"). The project comprises the planning, construction, operation and maintenance of two hydrogen filling stations at the rebus bus depots in Güstrow and Bad Doberan. In addition, APEX will be given a mandate to provide the two filling stations with green hydrogen. rebus is a bus company based in Mecklenburg-Vorpommern, Germany. The filling stations are expected to be operational by the beginning of 2024 and will become the property of rebus upon completion. rebus plans to procure and operate 47 fuel cell low-floor solo buses in the 12-meter variant and five additional fuel cell articulated buses in the 18-meter variant. Delivery of the first hydrogen bus is expected in early 2024. Subsequently, further buses will be delivered monthly, so that the hydrogen-powered bus fleet is scheduled to be complete with 52 vehicles at the beginning of 2025.

The project for rebus is expected to generate total revenue of EUR 6 million for APEX in the financial years 2023 and 2024 for the construction of the two filling stations. In addition, over the project period from 2024 to the end of 2031, APEX anticipates a total of at least EUR 21 million in revenue from supplying hydrogen via the filling stations and around EUR 3 million in revenue for the operation and maintenance of these filling stations.

An investment of a double-digit million Euro sum by APEX to expand capacity at its own hydrogen electrolysis plant located at the company's Rostock/Laage site from the current 2 MW to 12 MW, will be utilized in part to provide the projected green hydrogen volume of around 2,200 tonnes for the two hydrogen filling stations from 2024 to the end of 2031. The supply of the two hydrogen filling stations will account for around one-third of this capacity, and the remaining capacity will be marketed to additional customers. APEX's plant is one of the largest grid-connected hydrogen plants in Europe. The green hydrogen produced by APEX is produced exclusively from renewable energies such as wind and solar power.

As is customary for contracts awarded in a public invitation to tender according to German law, there is a 14-day objection period for all bidders who have not been awarded the contract. After expiry of the objection period, APEX will indicate whether an objection has been made.

APEX is a 100% subsidiary of stock market listed exceet Group SCA ("exceet," ISIN LU0472835155, WKN A0YF5P). exceet acquired APEX in early 2023 and provided it with capital to support the realization of the significant hydrogen project pipeline amounting to 1.7 gigawatts.

Peter Rößner, CEO of APEX, said: "We are pleased to be able to present the first renowned new project to our shareholders shortly after our listing on the stock market. Being awarded with this contract for rebus once again proves the quality of our technology and our proven expertise in planning. As a leading developer and operator of hydrogen electrolysis plants for industry, infrastructure and mobility, our pipeline is well filled and we expect to announce further new contracts shortly. This puts us on track to become an internationally established developer and operator of hydrogen plants."

APEX has already built the first hydrogen filling station for heavy-duty transport in Mecklenburg-Vorpommern, which the company has been successfully operating since October 2022, and has thus acquired relevant experience. The filling station is located at Rostock-Laage Airport in the immediate vicinity of the A19 and the A20 motorway junction and serves the refueling of trucks, buses and cars with up to 450 kg of green hydrogen per day, which is produced on a carbon-neutral basis by APEX.

This project has no influence on the revenue guidance of at least EUR 15 million for fiscal year 2023, as the vast majority of revenues from this project will be generated from fiscal year 2024 onwards.